Early start
I've written lyrics ever since I can remember. My first attempt at age 8 was to write the sequel to Annie, which I called Annie Goes Rocket Power. Thankfully, years later, I was lucky enough to be admitted to the prestigious BMI Lehman Engel Musical Theatre Writing Workshop where I was able to hone my craft and meet some of my incredible collaborators.
Emmy Nomination!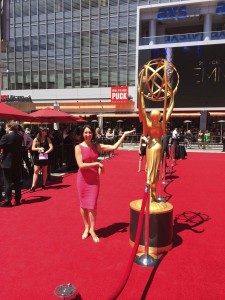 In 2014 I was nominated for a National Primetime Emmy Award for Best Music and Lyrics for the song "No Trouble" (Available on i-tunes ) from
A Christmas Carol – The Concert. This concert version of the Dickens classic short story  premiered at the Baltimore Symphony in 2011. Music by Bob Christianson, Book adaptation and lyrics by me. It was filmed for PBS in 2013 and has aired for the past three years to great reviews! The PBS version stars Michael Lindner, Kyle Scatliffe, Scott Coulter, Arya Daire, and E.Faye Butler. Amy Duran conducts the orchestra.
Alisa Hauser, crafted an original book and lyrics that are simultaneously faithful to Dicken's beloved narrative but also break new ground……Josh Getlin – The Huffington Post

….a vivid, crystal-clear adaptation and lyrics by Alisa Hauser – Hedy Weiss – The Chicago Sun Times
More TV
As someone who considers herself a theatre writer, I seem to have gotten the most exposure so far on TV! Here is a song I wrote with Stephen Sislen for the Disney Channel show "Johnny And The Sprites". (MY LUCKY DAY Lyrics by Alisa Hauser, Music by Stephen Sislen)
New projects!
I have a few projects in the works including a new musical BELINDA written with composer David Mallamud.